GrillGun

Light charcoal in seconds!!! Make charcoal grilling your very favorite activity!

Su-VGun

The Best Culinary Torch Ever Created! Light your grill, sear your steaks, or caramelize your desserts... anything!!!

Combo

The Best of Both worlds!

One GrillGun and one Su-VGun! Get them get them both and save!
Why You want a GrillGun?
Fun, Time, Taste, and Happiness

Fun
It's hard to describe how fun it is to operate a GrillGun and use it to start all types of fires. It is lightweight, comfortable to hold and easy to use, plus it looks and sounds like a jet airplane.

Time
Now you can wait for your friends to arrive before you start the grill, because whenever you want dinner, you just start the grill and your cooking in minutes instead of half an hour or more.

Taste and Health
The output from the GrillGun is 100% pure fire, no unburned propane fuel spraying on your meat or charcoal (torch taste). This makes for healthy, great tasting, hardwood
charcoal grilling.

Happiness
Philosophically, happiness comes from true friendships. GrillGuns are fun and facilitate friendships in backyard, lake or tailgate parties, camping, dinners for two, or just by relieving stress.
Need help deciding?
Two distinctly different torches with some crossover. Let me explain.
High-Power Outdoor Torch
Gun length - 21"
Flame Length - 36"
Flame - Fierce, powerful, intense
400,000+ BTUs - Very powerful max-flame for outdoor use while standing safely away from the fire
Outdoor Uses
Grills, BBQ pits and outdoor fireplaces  (charcoal - lump, briquette, wood), Other common uses -  controlled pasture burns, burns, insect control (web-worms, wasp nests, etc.), melting ice, campfires, bonfires, trash incinerators, weed/grass burning, roofing, etc.
Sear meat at full-blast outdoors on a grill surface -- too much power for general culinary torching
Big and Powerful
Long and balanced for standing at the oudoor grill, bbq pit, or campfire
Internal Safety Check-Valve to cut fuel flow when appropriate
BTUs 400,000+
Propane - 3600ᵒF 
MAPP - 3700ᵒF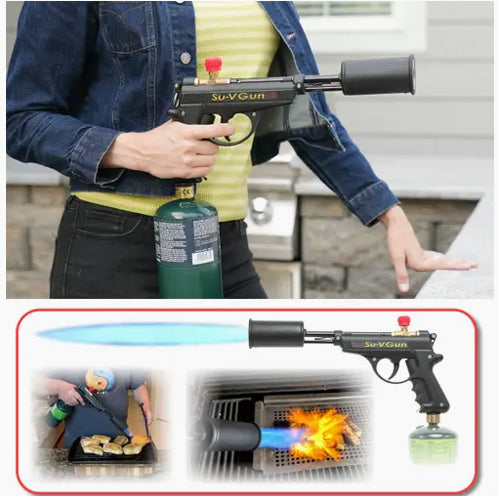 Food Prep - Indoor/Outdoor
Gun length - 14.5"
Flame Length - 18"
Flame - Focused and intense
240,000+ BTUs - Controlled and focused flame indoors and outdoors while standing close to your work
Intense enough for searing meat, delicate enough for crème brûlée
Indoor / Outdoor Uses
Culinary food prep (caramelizing sugars, exquisitely controlled meat sears, softening fruit, broiling, flame-kissed sushi, etc.)
Clean burning flame for a high-power complete sear, or gentle enough to delicately caramelize dessert or crème brûlée
Powerful enough to llight charcoal briquette or wood-fired grills, pits, chimeneas, campfires, etc.
Compact & Balanced
Short barrel and well balanced for operating it close to the food during counter-height flaming
Internal Safety Check-Valve to cut fuel flow when appropriate
BTUs - 240,000+
Propane - 3600ᵒF 
MAPP - 3700ᵒF
THE TECHNOLOGY
SO I'M AN ENGINEER AND I DECIDED ENOUGH IS ENOUGH
If I was ever going to have my Dream Torch, I was going to have to design it and build it myself. First I asked friends and family to help me create a list of features that would make it the absolutely most rock-awesome torch that everyone would want to own.
It had to have a built in spark igniter, for safety and convenience.
It had to be really hot to get the charcoal going super fast, 400,000+ BTU.
It had to be more efficient than other high power torches.
It had to run on small portable propane bottles for portability.
It had to attach to economical 20lb propane tanks for stationary use.
It had to completely consume its fuel and produce an entirely blue flame.
It had to be made of high-quality materials and last a long time.
It had to be easy and intuitive to operate.
It had to be able to be used safely.
It had to be fun and able to be used spontaneously when friends dropped by.
It had to look really cool, so that friends would see it and want one too.
This was a tall order, but the resulting GrillGun hits every one of these marks. Consequently is the only torch of its kind. Nothing else out there has all these design elements. It's an amazing tool that you'll want on your birthday list, Father's Day list, Graduation list, Christmas list.. It's truly a "Best in Class" torch.